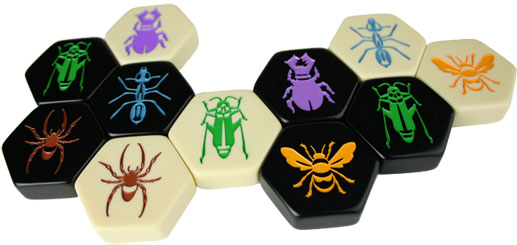 Tabletop Game Design for Video Game Designers comes with a copy of Hive that readers can cut out (or photocopy) and play. As Hive's designer, John Yianni, explains in the book, the game grew out of a desire to create a Chess-like game that is played using only pieces and no game board.
Hive's design lends itself to expansion by way of adding new insect types to the game. In fact, the John Yianni has created Mosquito, Ladybug, and Pillbug expansion pieces that can be added to the core set of Beetles, Grasshoppers, Soldier Ants, Spiders, and Queen Bees. In addition to these official add-ons, the BoardGameGeek community have come up with several unofficial add-on insects, as well as rule variations.
If you want to take a gentle step into tabletop game design, a good way to do it is to experiment with creating an expansion to an existing game, such as a new insect type for Hive.