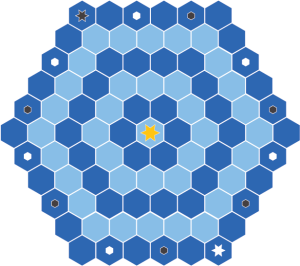 Agon (also known as Queen's Guard) is a tabletop game that is mentioned in passing in Tabletop Game Design for Video Game Designers. The game is notable for being the first known one to use hexagonal game spaces.
There are French tables for the 1780s whose tops are inlayed with the same design as the Agon board. It seems unlikely that the game is as old as that (since the first recorded mention of the game is in 1872). But it is entirely possible that the table design was what inspired the game. It would not be the first time that such a thing happened–Gary Gabrel's invention of Pente in 1977 was inspired by the checkered tablecloths (and, it has to be assumed, Go-Moku) at the Hideaway Pizza restaurant he worked in.
Apparently there is research by Edward Copisarow that suggests Agon should be dated to 1842 based on an English patent application. I do not know the details of that scholarship, but if intellectual property in the 19th century was treated anything like it has been in the 20th (e.g., The Landlord's Game/Monopoly) and 21st (e.g., CandySwipe/Candy Crush Saga), then the fact that someone is claiming rights to a game doesn't necessarily mean they actually created it.